The COVID-19 pandemic has brought about a paradigm shift in the approach of event managers and marketing specialists. A vast majority of tech expos and trade shows are now being conducted online, and consumers seem to be embracing this new concept with their arms wide open.
According to a study conducted by Grand View Research, the international online events market size was estimated at $77.98 billion in 2019, and is likely to rise at a compound annual growth rate (CAGR) of 23.2% from 2020 to 2027.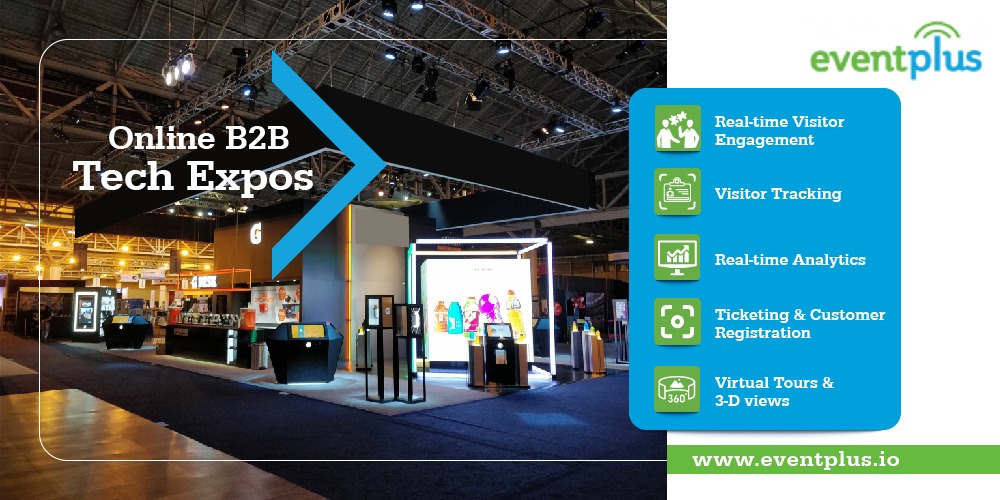 Given the huge demand for online shows and expos, how do tech brands and organisations scale up? What are the different accommodations and adaptations that they need to make in terms of building a digital infrastructure? And how do they go about planning the event if they need to conduct a large-scale virtual expo?
This is where event management platforms like eventplus come in. With their robust end-to-end solutions for different kinds of events, they collaborate with global stakeholders to create successful B2B tech expos. Here's a sneak peek of the different event-tech solutions offered by eventplus:
Real-time visitor engagement : Real-time analytics empower businesses to analyze and identify potential buyers and clients.
Visitor tracking and real-time heat map : The smart IoT empowered solution allows exhibitors and businesses to manage visitors and disburse relevant information without any hassle.
Ticketing and customer registration : Friendly chat bots and other AI tools speed up the registration process and ensure seamless and smooth online registrations.
Virtual tours and 3D views : The attractive virtual tours and 3D views of products provide the end consumers with insights on latest offerings and help in sustaining their interest throughout the expo.
So what are you waiting for? Visit us today at https://eventplus.io/ to engage in meaningful conversations on how you can increase the online presence of your brand.
Reference : https://blog.equinix.com/blog/2021/01/07/the-rise-of-virtual-events-and-the-technologies-that-power-them/
To know more about eventplus online and how it can transform your events with real-life experiences, visit us at eventplus.io or drop in mail to sales@eventplus.io