Enjoy an all new event experience
Technology at events isn't about thousands of people walking around with their eyes glued on their phones. It is about making the best out of the time we spend at an event and building long standing business relationships. Without an efficient platform to help them handle data and activities at events, there will be seas of wandering visitors wasting their time in meetings with people who do not fit their requirements.

You collect a handful of pamphlets and a pocketful of business cards, but never have a chance to enter the bulk of information from those into your contact list. A week later, you need to get back to one of those contacts and have to start searching through the piles. You no longer have to do this again. Eventplus does the heavy lifting for you.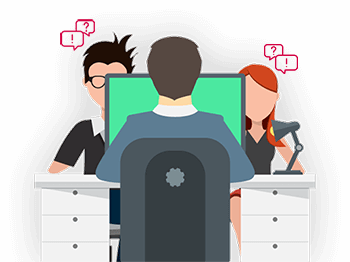 Tired of pamphlets
Carrying and handling the large number of pamphlets that they get from the event venue is a major annoyance for visitors at an event

How to manage all these business cards?
Getting the data in business cards received from different events organized is an important requirement for those who attend multiple events frequently.
Eventplus changes the way you experience events. With Eventplus you can achieve efficient match making, data capture and event navigation that aids you in chalking out fruitful business outcomes from the discussions during the event.

On demand pamphlet delivery
EventPlus saves you from the annoyance of struggling with a disorganized heap of pamphlets received from the event venue. EventPlus maintains an organized data base of pamphlets from different events you attend. Login to your personalized dashboard from where you can download and access thepamphlets you need as and when required.

Smart access to business cards
EventPlus automatically categorizes the business cards from different events you visit and stores then in a centralized repository from where you can access them. You can request the business cards from a particular event to be send to your e-mail and get it downloaded at your convenience.

Navigate with ease
Navigation inside the event venue can be troublesome at times, especially when the venue is a large one. With EventPlus you can easily view your location inside the venue as well as the location of any session or booth you want to find on your smartphone.

Visit booths conveniently
EventPlus helps you keep track of the number of people in the vicinity of each booth or area in the event venue so that you can avoid crowded areas and make the most out of the time you spend at each booth.
See how we can assist you to enrich your Virtual Event?